Forensic Email Search Software — Simplest Solution
The forensic email search is nowadays a time consuming and costlier process because of the increasing of data rate exponentially. In the scenario of a corporate firm where a fraud took place then it is the responsibility of the custodians of electronically stored information to justify it.
The legal firm who is handling the case may now face the question, how to collect forensic evidence of email from bulk of data. This may need to analyze email of evidences of different platform without installing email platforms. Simplified performance to reduce the complexity of analyzing email archives, Exchange server and finding evidence from it will be expensive. This large expense can be reduced by using the

forensic email analysis tool.
Features in Forensic Email Search Tool
Collaborative Environment: The forensic evidence recovery toolkit integrate many email platform like Outlook, Thunderbird, Exchange, Mac Outlook 2011, IncrediMail, The Bat, Sea Monkey by supporting each of them at single location.
Search Email Evidence: The evidence can be searched from the exponential data by giving particular keyword in the search box of forensic email search software. It also retrieve deleted item from mailbox and gave access to examine emails.
Examine Email from Different Preview: Multiple reviews of emails represent byediscovery tool in which electronic stored information of email shown in HTML/RTF/Hex code and MIME format.
Preserve Evidence: The integrity of email and its internal properties (header, message id, received date, sent date, to, cc and bcc) are maintained after email examination procedure. The reviewed email has all the previous content and fields.
Export Legal Evidence: The suspected evidence can be exported in PDF format to make it a legal proof. While transferring and collecting email evidence it is assured that it preserves the each single bit of email. The emails are also transferrable into EML, MSG, PDF and HTML file types.
Share Email for Review: The suspicious evidence can be sent on other system by sending the review of an email. This doesn't require any additional installation of same, it is much capable to preview the email itself.
Reduce Time Cost: Forensic email search utility is time and cost efficient. Its algorithm is designed in such a way so that it can intelligently search the mail by adding some filters. To recover email this utility also does additionally.
Try Before Making an Investment

The free trial is recommended to do the forensic email search. After going through the demo edition you can invest in

email header analyzer tool. You are assured to gain your complete ROI after analyzing the case with this worthiest software.
How To Collect Forensic Evidence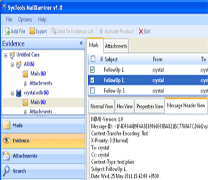 Search all Evidence & Export Evidence